Sponsoring
The Van der Valk Hotel Hildesheim gets things moving at school
On the occasion of the 10th-year anniversary of the hotel on 1 September 2016, a fund-raising campaign was launched for the "Grundschule auf der Höhe", a primary school in Hildesheim. On this evening, the hotel added to the amount raised to provide the Friends' Association with a total sum of € 1,000, earmarked for the purchase of new toy vehicles. In 2017, the primary school took up its operations as an all-day school, which is why the existing offer of toys urgently needed to be expanded. The purchase of a fleet of small toy vehicles provided the children with lots of fun and gave them motivating opportunities for play and physical exercise. The Civic Museum (Stadtmuseum) rounded off the fundraiser that evening and spontaneously donated a gift certificate for the visit of a school class to the museum.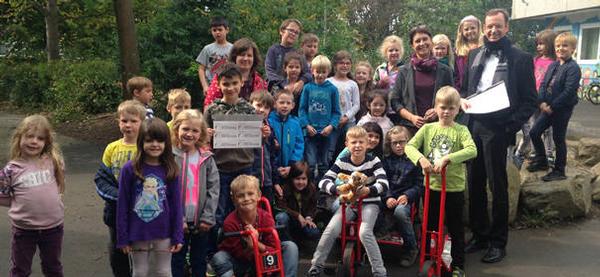 The children enjoy playing with the new toy vehicles, something our head of sales, Jürgen Völkel, was able to see for himself during a visit to the school. They had drawn lots of pictures, which were presented to him to say thank you. Due to limited space, we can only show you a few of them here as a collage.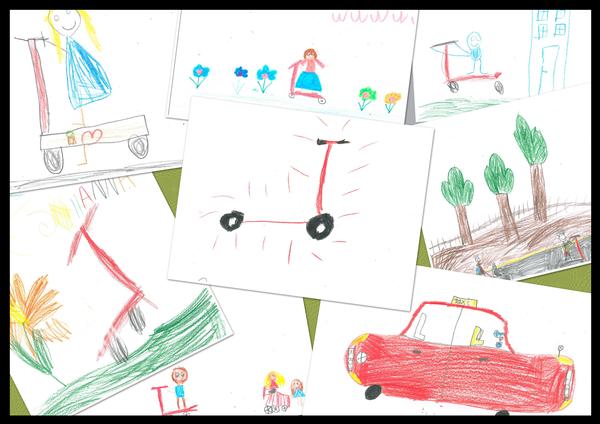 Colourful landscape in the Caritas kindergarten in the Arneken Galerie
Professional graffiti artist Ole Görgens transformed a simple, gray wall into a rich, green landscape, a beautification of the outdoor area of the kindergarten made possible by a donation made by the Valk Hotels Hildesheim. Managing director Willem Polman and his wife, Danielle, were at the official unveiling of the artwork and were able to personally experience the positive reaction to this contribution. This financial support gives the children more colour and a more positive attitude to their everyday lives.