Sleeping
Corona information:

According to the current 3G guidelines (recovered, tested, vaccinated), all hotel guests are required to provide evidence, no matter if they travel private or on business. A corresponding certificate must be presented at the reception upon arrival.

Tourist trips from Germany, abroad and risk areas are allowed with a negative test result or vaccination certificate. Tourists trips from a high incidence area or a virus variant area are allowed when guests are fully cured or fully vaccinated.

For risk areas, high incidence areas, virus variant areas or the rules for traveling to Germany: click here

For our restaurant offer and opening times: click here
---
We renovate and enlarge! The renovation and construction will start in late February and are expected to end in September 2021.
Superior
Superior with Balcony - Double bed
Our Superior Room with Balcony have a double bed with a measuring of 1.80 x 2.00 m. The approx. 25 square meter rooms look to the entrance area or the access road. The rooms will be designed in the new, fresh Van der Valk style. The special thing about these rooms is the balcony, some with a view over the roofs of Hildesheim. The bathrooms are equipped with a rain shower.
All prices do not include breakfast, but do include the use of the swimming pool, sauna, fitness room, Internet via W-LAN and Business Corner.*

When making a room reservation or at check-in, our breakfast can be booked for an additional € 15.50 per person.
* If the rules regarding COVID 19 allow it.
Book Superior with Balcony - Double bed
Additional Services & Conditions

Superior - Twin bed
(handicapped accessible, only bookable on request)
The handicapped accessible room is approx. 25 square meters and well suited for wheelchair users, as well as accessible. One of the separate beds is automatically adjustable (remote control) in the head, trunk and foot area. The bathroom is equipped with a walk-in shower and meets the requirements of a bathroom suitable for the disabled.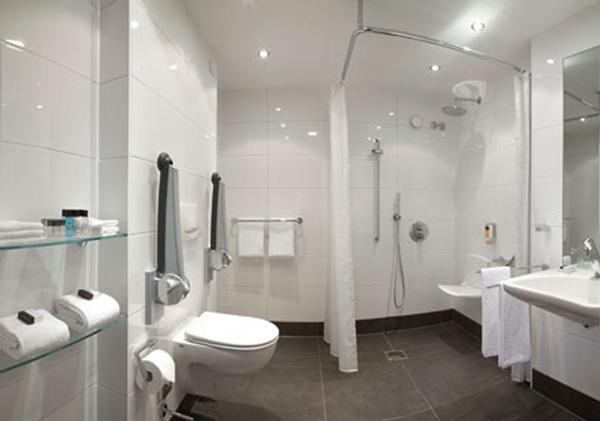 Conditions
All prices do not include breakfastbuffet, but do include the use of the swimming pool, sauna, fitness room, Internet via W-LAN and Business Corner. All prices apply per night/room, incl. the statutory VAT.*

When making a room reservation or at check-in, our breakfastbuffet can be booked for an additional € 15.50 per person.

Check in from 3 pm, check out until 12 noon

Cancellation policy: Cancellation free of charge up to 24 hours prior to arrival. Special conditions and cancellation policies apply during trade fairs and season holidays. More detailed information is available from our Reservations department: reservierung@hildesheim.valk.com / Tel. +49 (0)5121 300-600
Dogs are not allowed in the hotel.
* If the rules regarding COVID 19 allow it
Additional Services
Breakfastbuffet:
Adults and children 13 and over per person
5 - 12 years old
0 - 4 years old
15,50 €
6,00 €
free of charge
Extra bed:
0 - 4 years old, in parents' room
13 years and over per night (without breakfast)
Extra beds will be booked automatically to the corresponding number of persons in hotel room
free of charge
25,00 €



Parking:
For every 24 hours in our public underground parking
with separate hotel entrance
9,50 €
Food & Beverages:
3-course meal with choices (soup) per person

3-course meal with choices (appetizer) per person

4-course meal with choices (soup and appetizer) per person
29,50 €

33,50 €

39,50 €

Prosecco Casa Vinicola




Spumante Doc Auf Eis, 0,75 l

32,00 €
Sparkling wine
J. Oppmann, Extra trocken, 0,75 l
25,00 €
Champagne
Billecart-Salmon Brut Réserve, 0,75 l
69,00 €
Fruit plate per person
5,00 €